Here, Chris joins Mitch (Money Mitch) Hoch, Lead Anchor / Producer of Benzinga TV to discuss the markets ahead of the next Federal Reserve meeting on February 1. Having been vindicated in his Dec. 2021 predictions for 2022 on Benzinga, Chris doubles down on his view that:
The bear market is NOT over yet,
The Fed, led by "Fire Marshall Jay," may still have to consider a 50 bp hike next week due to the markets not taking it seriously,
Notwithstanding the stronger-than-expected economic news of late, at lest a mild recession IS coming AND
Despite that, there remain several actionable and profitable investment themes out there!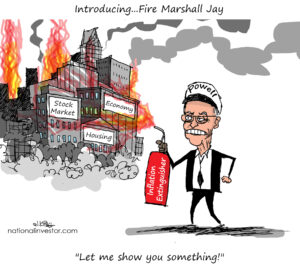 Fire Marshall Jay can still do some damage, to be sure...
But wise investors are making money NOW on Chris' two themes of "The Great Stagflation" and "The New FAANGs."
LISTEN TO THE RECORDING at https://www.youtube.com/watch?v=Cuf-e-qv_mU&t=776s 
ATTENTION! -- If you are not already on our mailing list, SIGN UP TODAY! -- You'll automatically receive occasional market commentaries, special sector reports (often with some of my specific recommendations) and much more!