My colleague Tom Bodrovics at Palisade Radio and I spent the better part of an hour on Memorial Day on one of THE most important subjects that investors generally--and gold investors especially--need to get their heads around. 
     I have long called it "The Flation Debate." And you can listen by clicking on that link.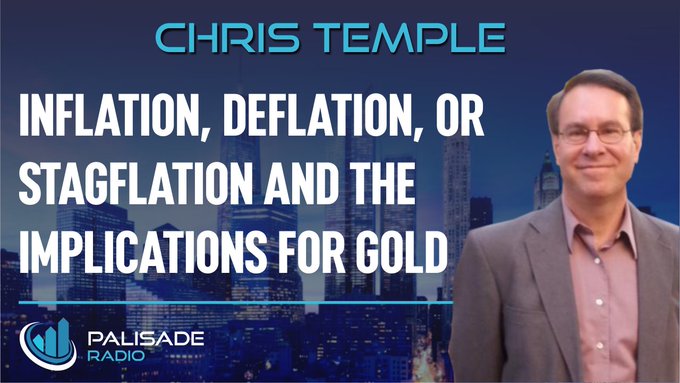 One major problem that lots of investors and even many "experts" have is that they view inflation and deflation through a lens that is OBSOLETE. 
     The "hyperinflationists" are breaking out the wheelbarrows.
     The "deflationists" still predict that stocks and even gold will end up losing almost all their value from here.
     Neither of these extreme camps will see their fervently-held--indeed, religious--creeds vindicated. 
     I explain this and a TON MORE in MY COMPREHENSIVE INTERVIEW with Tom.  
Time Stamp References:
0:40 - How his interest in gold started.
4:00 - Don't get married to gold.
5:55 - US Inflation and deflation era.
12:30 - Financial markets used to reflect the economy.
15:00 - The traditional business cycle has been replaced.
18:25 - The problems with massive credit expansion.
20:30 - Prices may run higher due to shortages.
23:40 - Fed has printed a lot, stagflation is coming.
27:50 - This is not your father's gold market.
33:15 - Dollar correlations with gold.
37:30 - Future Fed Outlook and Gold.
38:40 - Examine markets dispassionately.
41:00 - Repo market seizes up in September 2019.

Talking Points From This Episode
* Understanding the Volcker era markets.
* How central banks have inverted everything.
* Inflation and credit expansion consequences.
* Why credit cycles cause supply disruptions.     
As you can see from the above highlights that Tom took the time to provide as an outline, we covered a LOT of ground! Whether your interests are gold...other commodities...the stock market...or whatever, THIS IS YOUR ROAD MAP to understand these monetary and "Flation" dynamics and how they will be KEY in shaping the unfolding "Strange Depression", etc...