Welcome to The National Investor!
By joining our e-mail list you will receive periodic commentaries on the markets and MUCH more!
For present purposes, joining me today will get you a FREE copy of my new Special Report...indeed, a veritable complete manual to understanding the Gold and Silver markets!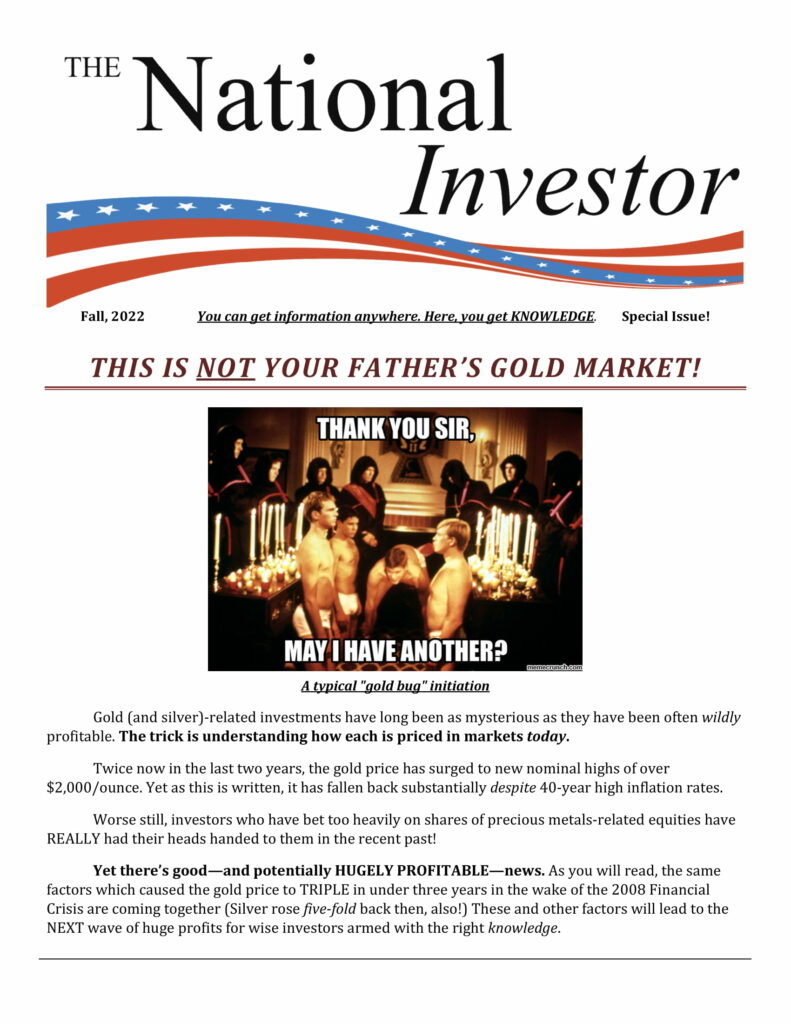 "This is NOT Your Father's Gold Market!" is a sober, realistic source for all things precious metals: Your one-stop shop to understand what moves these markets (and doesn't) today.
You WON'T read dopey conspiracy theories, come-ons and the like, such as is all too prevalent from the usual suspects among "The Pied Pipers of the Gold Bug Echo Chamber" as I call them.
You WON'T need to wear a tin foil hat to "get" all this.
What you WILL get is a no-nonsense, common sense journey through history...gold's several modern-day manifestations since the fixed gold price was ended half a century ago...what motivates investors today...and much more: INCLUDING profiles of several of Chris' recommendations among precious metals-related explorers developers and producers.
DON'T DELAY! -- simply give us your name and e-mail address below and we'll get this JAM-PACKED REPORT. . .and other knowledge. . .on the way to you immediately!
(Please note that these e-mails will be coming FROM chris@nationalinvestor.com. So if you or your ISP employs a "spam blocker" or requires that you "whitelist" favored senders, don't forget us!)