COMMENTARY - May 14, 2022
In his Clintonesque "I feel your pain" message to America on the inflation crisis this past week, President Biden—among other things—insisted that he's going to compel America's energy sector to produce more to help alleviate now record-high gasoline and diesel prices.
As with so much of the president's blame-shifting, disingenuous "malarkey" it's hard to know where to start with all his claptrap. Truth be told, we are not that far now from record oil production in the U.S. Further, recovery in production is now expected—according to the Energy Information Agency—to reach a new all-time high in 2023 of around 12.8 million barrels/day, though they were quick to point out that this forecast is "highly uncertain"…and that retail prices for refined products are likely to stay high in any event.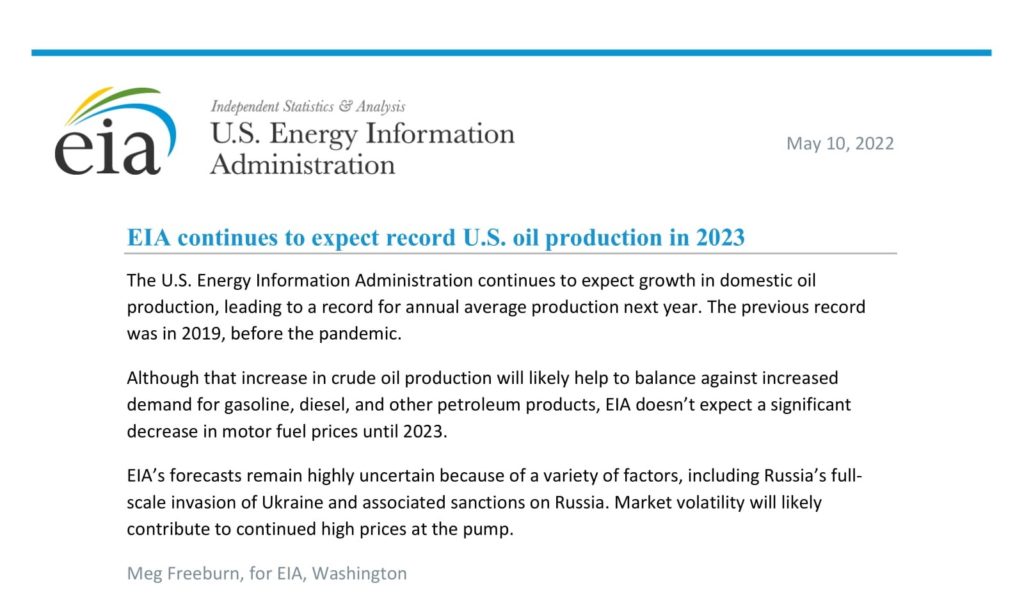 There are a few different reasons for that latter. Washington has done no favors to either the industry or consumers in an unfocused, reactionary game plan that is more about putting band-aids on bullet wounds than anything more sound. One of the more comical moves of the recent past was when President Biden last month announced he wanted to allow greater sales of E-15 gasoline; a blend with 15% ethanol by content rather than 10% as is the norm. Ostensibly, this would bring down the price overall and help consumers deal with the inflation/fuel price emergencies.
But critics said the only "emergency" Sleepy Joe was worried about was his crashing poll numbers. As with the pointless release of oil from the nation's strategic reserve, such rule suspensions as producing more E-15 are supposed to be in the event of a major supply disruption, such as those resulting from a hurricane, said Chet Thompson, President & CEO of the American Fuel & Petrochemical Manufacturers (which represents petroleum refiners) in an ABC News interview.
"An additional three months of E15 sales won't do anything to address high crude oil prices, and 98% of retail (gas) stations can't even sell the fuel," Thompson said. "This is politics, not a real solution for drivers."
And I'll remind you all here, too, that E-15 is actually worse for the environment than E-10.
Though oil production has rebounded quite a bit (and demand with it, as the U.S. economy by and large leaves the COVID-inspired lock downs behind) the big issue that Biden—and to be fair, presidents and policy makers before him—ignores is the bottleneck of refining capacity. As you'll read at a great analytical piece on this on Yahoo Finance--https://finance.yahoo.com/news/us-cant-enough-fuel-theres-142521880.html?fr=sycsrp_catchall –that largely intractable problem is required reading if you want to understand some looming shortages that are on the horizon; especially for diesel fuel.
None of this will be fixed, of course, by S.P.R. releases or the president's disingenuous browbeating of the industry to produce more.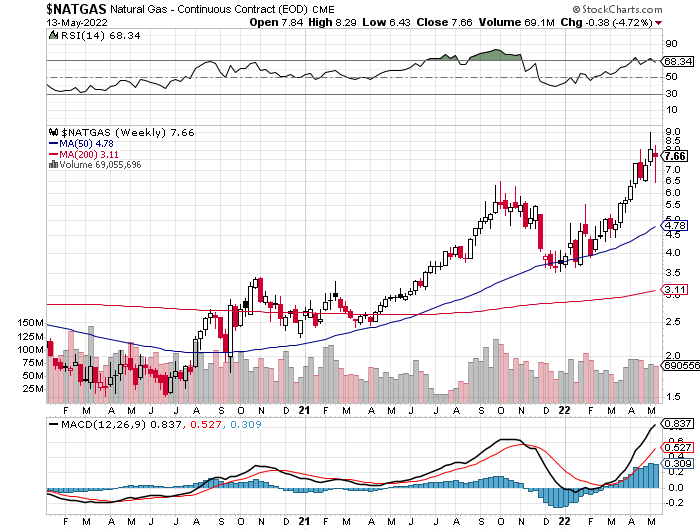 Also—as is even more the case these days with the even bigger surge in natural gas prices—Biden  suddenly doesn't want us to remember that higher energy costs for us are "Americans' Part" in the war effort against Russia. You remember, I trust, that we heard this incessantly early on in what is clearly the U.S. Deep State's economic war (and more, if we're honest) against Russia: that sanctions, shortages and higher prices for Americans must be suffered in this "battle between good and evil."
That obviously wasn't polling well, so that justification for higher energy costs has vanished of late. And it's no wonder: as Americans' utility costs soar (thanks, in large part, to America exporting natural gas overseas along with oil, rather than keeping our own plentiful supplies and formerly low costs here at home) maybe Biden, et al don't want to remind us of this after all.
But realize that is a big part of all this: YOU are paying record prices for gasoline and diesel fuel—and shortly to heat and cool your home—not only because of derelict domestic energy policies but because our rulers simply can't live without war and global intrigues.
But by far and away, one of the most intractable, core problems leading to our energy price inflation has been Biden's Treasury Secretary Janet Yellen. As I reminded our audience at last weekend's conference, it MUST be remembered that the reason this Washington insider/banking retread was given this job had little to do with her purported financial/economic acumen, but more her "green" bona fides as a leading policy maker fighting climate change.
As I wrote back when she was nominated, Yellen was a Founding Member of a group called the Climate Leadership Council. Back on December 1, 2020, upon her nomination for Treasury by President-elect Biden, the C.L.C.'s C.E.O. Greg Bertelsen said this:
               "Congratulations to Janet Yellen on her historic nomination as U.S. Treasury secretary. As a   Founding Member of the Council, Janet has been a steadfast partner in our effort to achieve a           bipartisan breakthrough on climate. America will be fortunate to have such a brilliant and  principled public servant steering economic policy during this difficult time."
Yellen has a long and vocal history as an advocate of major new carbon taxes…providing penalties for banks who finance new oil, gas and coal development…and giving cover for others who, overall, find it fashionable to denigrate or hobble an industry we still need. But here again—with America reeling from soaring fossil fuel prices across the board—it's not as fashionable for any of these people to remind us that Yellen was given the job at Treasury largely to accelerate the death of fossil fuels and "fight climate change."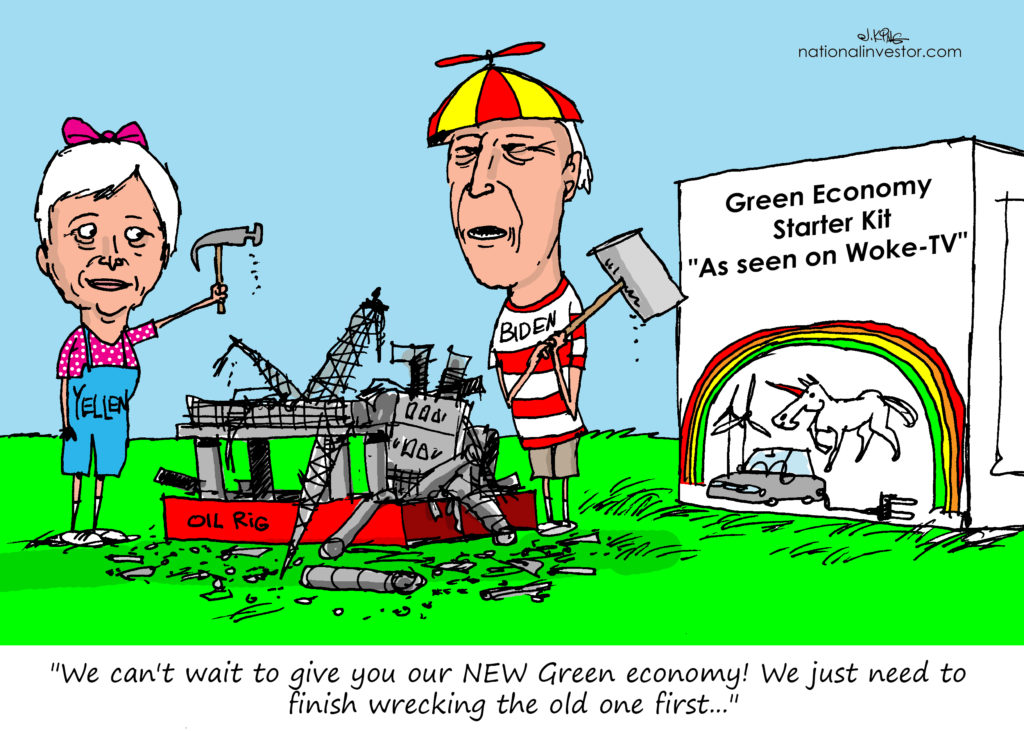 A mere couple hours before Biden's "I feel your pain" live speech on inflation, Yellen was called out for some of this in her appearance before the Senate Banking Committee. Sen. Pat Toomey (R-PA) especially made mincemeat out of Yellen's priorities for the banking system which are ridiculous as a matter of economics on their face; and help reveal her as a conscious destroyer of the fossil fuel industry. For time's sake here I will simply share the link containing this give and take so you can watch it for yourself: https://www.youtube.com/watch?v=LkR504ziabA.
Back to Sleepy Joe specifically: Similarly to his invoking the Defense Production Act recently to supposedly foster domestic critical minerals development even while some in his administration have killed or delayed several such needed projects, Biden is also engaging in flim-flam on oil and gas development. In his Tuesday speech, he threatened to penalize energy companies which hold some 9,000 federal leases from which they are not presently producing. But here again, when he, Yellen and others have elsewhere been responsible for so many disincentives to develop and produce such assets, Biden's crocodile tears for record costs being borne by the public don't mean much.
Soon to complicate this picture much more will be the enforcement of new rules announced late last year to curb methane releases from oil and gas wells, etc. (see https://www.epa.gov/newsreleases/us-sharply-cut-methane-pollution-threatens-climate-and-public-health). As nationally known energy analyst Phil Flynn (for more, see http://www.321energy.com/reports/flynn/current.html) reminded last weekend's conference, given that the overwhelming majority of America's oil production comes from small operators producing 100 barrels/day or less, this might finally be the straw that breaks the camel's back for them. Some will simply shut down rather than shoulder the added financial and regulatory costs, unless their price surges far higher still.
Paraphrasing James 1:8 from the Bible, "A double-minded administration is unstable in all its ways."  Claiming to want more energy—but having Yellen (and others) in policy-making positions to defeat these purposes—renders Biden more confused (or double-minded/disingenuous himself) than ever.