Posted Thursday morning, January 7, 2021
Yesterday (Wednesday) -- in between keeping our eyes on the crazy scenes unfolding in our nation's capitol -- I heard from a great old friend: Washington area journalist Cliff Kincaid. He recently relaunched his America's Survival TV brand and wanted to visit with me about--among other things--the future of American politics in the wake of recent days, and what we can expect policy and investment-wise from the incoming Biden Administration.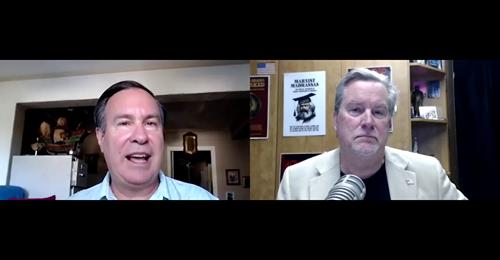 You can watch our no-holds-barred and MEATY discussion RIGHT HERE.
Some of you old timers remember Cliff as an early presence "on the right" on CNN's old Crossfire TV show; one of the early pinch-hitters years ago for our mutual friend Pat Buchanan when Pat's services were required at the White House.
Along the way he was also the protege of the late Reed Irvine, one of the giants of my lifetime of responsible, truthful journalism (some of you likewise recall Reed's organization and newsletter Accuracy in Media, many copies of which Yours truly still has!)
In our detailed discussion above, Cliff and I discussed the future of politics and the economy going forward, especially as the Establishment is now on an aggressive quest (bolstered by yesterday's largely coreographed--my own opinion-- horrors) to wring out every vestige of "Trumpism."
We also discussed NUMEROUS policy and investment themes, some of which I have already given Members actionable recommendations on.